As summer is fast approaching, Boostceuticals would like to support the quest of prioritizing health to enjoy the fun of summer time --illness-free.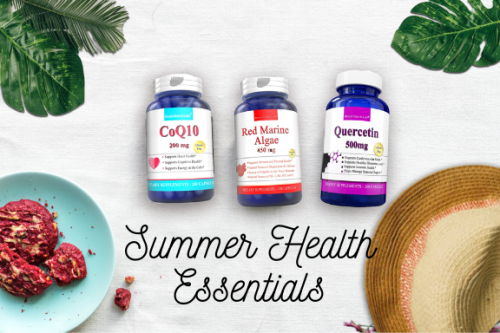 New York NY, United States - May 5, 2019 /MarketersMedia/ —
Summer is a time for family trips, backyard parties and plenty of fun however it's no time to take a vacation from taking care of one's health. Rather, it is the time to double if not triple one's effort for a healthy life. The summer sun can be harmful to the body and health in a variety of ways. It can deplete important nutrients that help the body to function properly and cause damage to the skin. With this reason, experts highly encourage adding health-supporting supplements that boost the immune system energy and overall well-being.
In lieu of their pursuit of boosting health, this summer Boostceuticals showcases their 3 summer essential supplements: Quercetin, Coq10 and Red Marine Algae. These three Boostceuticals supplements offer complete support to wellness seekers this summer.
Boostceuticals Quercetin is a popular anti-oxidant that lowers harmful free radicals. Quercetin is a type of flavonoid antioxidant that's found in plant foods, including leafy greens, tomatoes, berries and broccoli. While it is abundant in plant foods, supplementation is still needed due to one's current lifestyle as quercetin plays a role in regulating the immune system's response to outside stressors. And the antihistamine properties of Boostceuticals Quercetin also help lower LDL cholesterol for a healthy cardio vascular system as well as healthy capillaries and arteries. One of the most important of attribute of Quercetin is its powerful anti-inflammatory properties. Research shows that Quercetin can help manage a number of inflammatory health problems, including heart disease and blood vessel problems, allergies, infections, chronic fatigue, and symptoms related to autoimmune disorders like arthritis.
Boostceutical Coq10 is hailed as effective to boost energy and speed up recovery. Coenzyme Q10 (CoQ10), also known as "ubiquinone", is a molecule found in nearly every cell in the body. Studies have shown that supplementation with Coq10 is effective and safe. Boostceuticals Coq10 can increase energy, endurance and stamina levels that one would need in fighting the summer heat. But since it can't be assured that daily diet can include 30-100mg per day, supplementation is vital.
Boostceuticals Red Marine or what they call the 'True Superfood" remains true as a superfood. Red Marine Algae, commonly known as a sea vegetable, is a type of algae that grows abundantly in the ocean. It has been used by Chinese and Japanese cultures for centuries for its nutritional benefits. Boostceuticals Red Marine Algae supports a healthy immune system and steady immune system response because of its sulfated polysaccharide content. It is also used to support healthy skin (psoriasis, eczema), hair, and nails that one would need this summer time.
With these three essential summer supplements from Boostceuticals, one is assured not just an activity-filled summer but a healthy summer for everyone. "We have incredibly exciting and excellent summer supplements," said CEO Leo Eliades. "We see customers not only enjoying their summer time but together with our wellness products that they also support their wellbeing"
About Boostceuticals Nutrition
Boostceuticals is dedicated to supporting people on their pursuit of health and wellness. With the right blend of nature and science, all Boostceuticals supplements are manufactured to the highest-quality standards in the USA in an FDA certified facility adhering to all GMP requirements.Every step is taken to ensure the development of superior and fine quality nutritional supplements. With its use of natural ingredients and being GMO free, it has become the sensible and healthier choice for every American household.
Contact Info:
Name: Alicia Walters
Organization: Boostceuticals
Address: 228 Park Avenue, S# 71493
Website: https://pxlme.me/qmb-DISp